After the success of our first event at Goodstock Manchester, we are extremely excited to announce our next Small Fry event, The Re-Fry! The Re-Fry, will be at Foundation Coffee House on Lever Street, ‪on Saturday 7th December 2019‬. It will be a meet-up comprising of prints, talks, music and interactive workshops. 
The talks will range from animation and illustration, to publishing and design!
TICKETED Small Fry Chats hosted by Derek Brazell (7-10PM)
Thomas Harnett O'Meara is a London based animation director. He specialises in intricately crafted stop motion worlds that are imbued with charm, craftsmanship and fun. Since graduating from RCA animation in 2015 he has made films for some of the worlds biggest brands. These include a bonkers ad for Maynard Bassett's, a short film to promote the David Hocnkey retrospective at Tate Britain (Hockney said the film was 'really cool'), designed a series of notebooks with accompanying animations for Papier and Creative Review, and Worked with Hermes Paris to promote their autumn/winter leather goods range. 
In 2017 Thomas was working on Wes Anderson's latest feature, Isle of Dogs, as a puppet builder. His most recent film for The Wildlife Trusts subverts a film trailer for the Wind in the Willows to highlight loss of habitat in the UK, The project was brought to life with a voice cast including David Attenborough, Stephen Fry, Catherine Tate, Alison Steadman and Asim Chaudhry. The animated trailer racked up a social reach of 17 million and charmed the press with 195 pieces of coverage, from BBC Radio 4 to Vogue, the Mirror and ITV news. It was screened at over 500 cinemas with film posters running through the country from London to Glasgow.
Jane Bowyer is a Manchester based designer and illustrator working directly with companies and design agencies on a range of projects and commissions that have included work for ZSL London Zoo, East End Women's Museum, Arts Council England, Herb Lester and The Pankhurst Centre. Jane uses her skills as a designer and storyteller to create positive change. She is the creator and curator of Women in Print a  grassroots project that aims to shine a light on female creativity and the stories within our places through print.
As a practitioner, writer and advisor, Derek Brazell has been involved in the illustration world for many years. His role at the Association of Illustrators includes publisher of Varoom magazine as well as contract and licensing advice to members and lectures on illustration business for universities, closely supporting illustrators across their careers.
As an illustrator, Derek created many successful picture books for children, including Cleversticks in 1992 and still in print, and Lima's Red Hot Chilli. His books with co-author Jo Davies include Becoming A Successful Illustrator and Understanding Illustration. Derek regularly reviews children's books, and has spoken on illustration matters at book Fairs for many years. Derek will be both hosting, and presenting a talk at The Re-Fry.
Caroline Dowsett is a Manchester based artist and maker of things. Her work is inspired by movement, words, sounds and the everyday. Working with bold, fluid shapes and words in a playful approach. Some of Caroline's clients include; UNIQLO, NTS Radio, Fred Aldous, Virgin Trains and many more.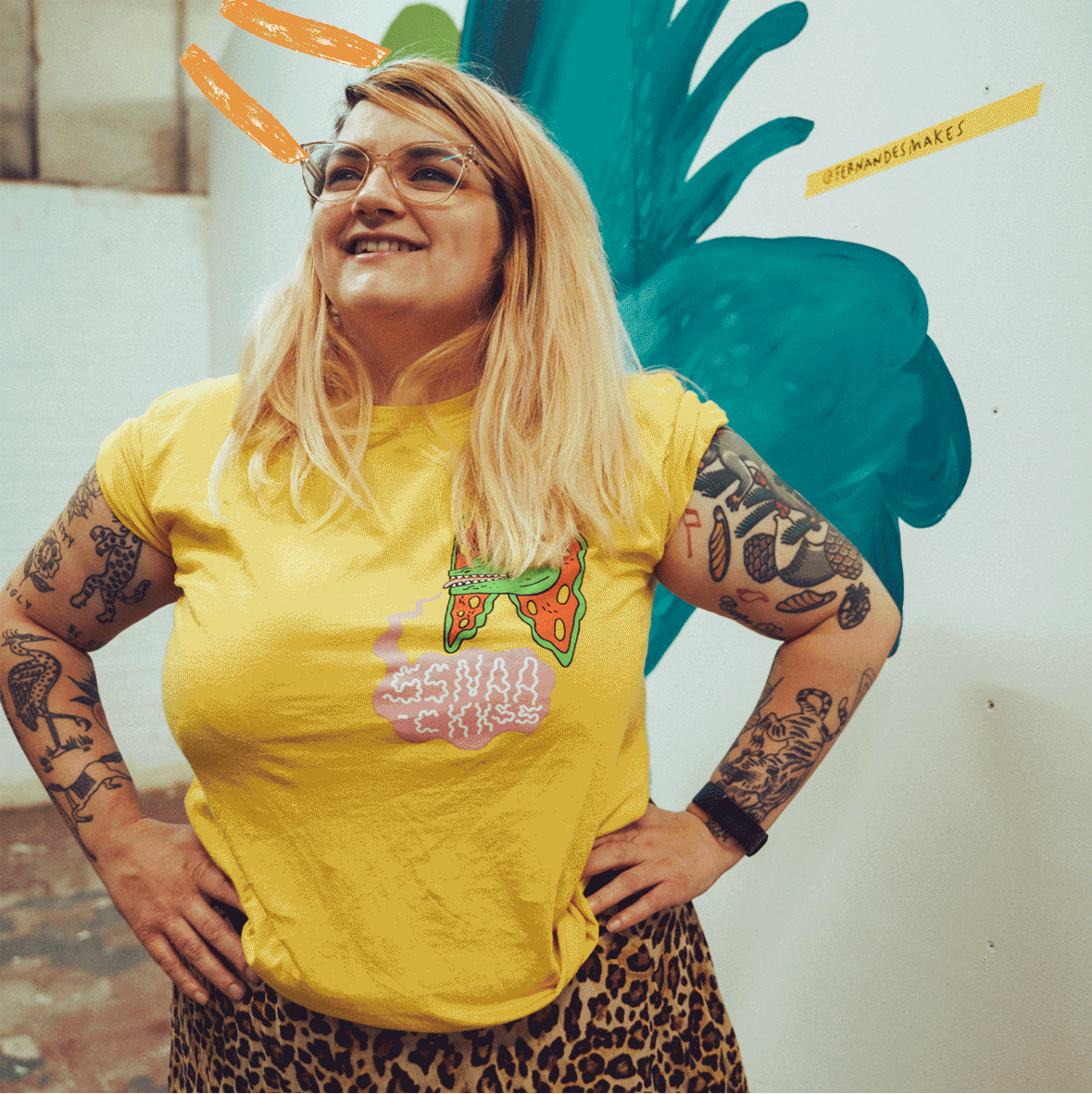 Nicola Fernandes is a Norwich born, Manchester based illustrator and painter of fun quirky designs for you, your friends and the cat! Fernandes is driven by the love of interactive creative community and Manchester's art scene. A former Visual Studies graduate from Norwich University College of the Arts, Fernandes is a creator of custom illustrative treats for your amusement, expect pet portraits, playful revenge and immense girl power.